Many sports have different levels for their athletes to strive for, and cheerleading is no exception. While baseball may have triple A, double A, and so on in the minor leagues, cheerleading has many levels of its own.
If you've always dreamed of taking your cheerleading skills to the next level, Tumblestunt is here to help! As your Top Rated Local® cheerleading gym in Bakersfield, Tumblestunt strives to help women improve their skills through cheerleading classes and more! Whether you're looking to advance your jumps, tumbling, or cheer stunts, Tumblestunt can help. Contact us today to sign up!
Learn more about the complex world of cheerleading below and gain some insight on the different levels of this amazing sport!
Scholastic Cheerleading
When you think of the word "cheerleader," you're probably picturing the girls from your high school cheerleading team. Scholastic cheerleaders are associated with a school. They cheer mainly for sporting events, but some scholastic cheerleading teams will also compete. The tryout process for a scholastic cheerleading squad is usually up to the coach. Junior varsity and varsity levels are also distinctive to scholastic cheerleading.
All-Star Cheerleading
While scholastic cheerleaders are associated with a specific school, all-star cheerleaders are usually associated with a specific gym. Cheerleading gyms usually teach tumbling, stunts, gymnastics, and cheers, but their main focus is on competition. Unlike scholastic cheerleading squads, all-stars don't cheer for sporting events, instead, they focus on fine-tuning their skills to excel in competitions.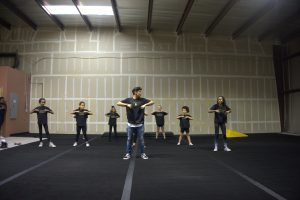 If you're looking for an all-star cheerleading gym, look no further! Tumblestunt is your Top Rated Local® cheerleading gym in Bakersfield. Not only do we offer classes in cheer stunts, tumbling, and jumps, but our experts will guide you through what you need to know in order to dominate your school's cheerleading tryouts. Contact us today to sign up!
Recreation Cheerleading
Recreational cheerleading is usually done through the city's recreation department, a church, or a YMCA. As opposed to all-star and scholastic cheerleading, recreation cheerleading typically doesn't involve a tryout process. Anyone who wants to join is welcome and the team will cheer for other sports in the league.
Pro Cheerleading
Professional cheerleaders typically cheer for professional sporting events like NFL football games. In some cases, these cheerleaders are seen more as entertainers or dancers than as cheerleaders. However, the skills they learn as professional cheerleaders often translate into other professional entertainment careers.
The tryout process to be a professional cheerleader is the most rigorous out of the other levels of cheerleading. Once they make the squad, pros have the opportunities to travel and appear in calendars and other promotional items.
Tumblestunt
If you're in the Bakersfield area and you're looking to improve your cheerleading skills, visit Tumblestunt! As your Top Rated Local® cheerleading gym, we make it our mission to help you take your abilities to the next level. We offer a variety of different cheerleading classes, including tumbling, jump training, stunts, and more! If you're interested in learning more about Tumblestunt, contact us today.
We look forward to seeing you soon!